UV-LED Large Flatbed Inkjet printer
Larger printing area 2.5 m × 3.1 m
Nagano, Japan (August 31, 2016)

Mimaki Engineering Co. Ltd. (President and Representative Director: Kazuaki Ikeda), a leading global manufacturer of wide format inkjet printers and cutting plotters, announces that the built-to-order model, JFX200-2531, will be launched in November, 2016. The new JFX200-2531 is a large flatbed UV-curable inkjet printer that has twice the printing area as compared with the entry model, JFX200-2513, while retaining its printer engine.

The current JFX200-2513 model has received good reviews owing to its quality, robust performance, usability, and being environmentally friendly. As per customer demands for large sized models, we developed the JFX200-2531 model. While enjoying the same powerful engine of the current model, the new JFX200-2531 model offers twice the printing area. The new print table is compatible with media as large 2.5 × 3.1 m, which enables printing on a wide range of materials. This includes printing on large signs, walls, doors and furniture. For instance, the print table can accommodate two signage boards having the popular size of 1,220 mm × 2,440 mm / 4 ft × 8 ft. Moreover, the new toggle print function enables image printing alternately from side to side. This novel feature allows operators to mount a board while the printing operation is being performed on the other side. The new JFX200-2531 model is an ideal solution for expanding business opportunities given its boosted productivity and consistent print quality.

JFX200-2531|Product page
Larger printing area enables printing up to 2.5 m × 3.1 m size
The larger print table is compatible with media as large as 2.5 m ×3.1 m. While being larger than the current model (JFX200-2513), the new printer can be divided into several units (*1), allowing it to use the same entrance size during installation as the current model.
*1: Install Dimensions (W×D×H): 4,400 mm × 2,250 mm × 1,250 mm (173.2 in × 88.6 in × 49.2 in)


New toggle print feature increases productivity
The new toggle print feature enables alternate image printing for both sides using the wide printing area (2.5 m × 3.1 m). Operators can load and unload panels on one side while the other side is being printed. Using this efficient media mounting feature minimizes time delays and maximizes productivity.


Excellent usability
- The ionizer is a standard feature for eliminating the undesired electrostatic discharge that affects a printed image quality.
- The suction valve separately controls four suctioning areas. This capability improves the printing quality by providing stable media handling.
- The vacuum pedal is also a standard feature of this printer. It allows operators to control the media vacuum power without the need to access the control panel at the front side.


Same reliable printing technique of the current model along with versatile capabilities for handling a wide range of applications
- Anti-banding function, Mimaki Advanced Pass System2 (MAPS2)
- Variable dot print resulting in smooth and beautiful prints using three ink droplet sizes.
- Mimaki Clear Control (MCC) adds value to the prints by providing various high-quality finishes.
- A wide range of ink types is offered to accommodate the application needs. LH-100 ink: High scratch resistant ability / LUS-120 and LUS-150 inks that are suitable for printing on soft materials. LUS-200 ink: High weatherability / Thermoformable LUS-350 ink.
The print table is twice the size of the current model. It accommodates panels as large as 2.5 m × 3.1 m. Two 4 ft × 8 ft (1,220 mm × 2,440 mm) panels can be mounted on a single table. Moreover, the printer allows printing material as high as 50 mm and weight up to 50 kg/m2 to be used. Given its versatility and ability to handle large printing sizes and weights make the JFX200-2531 an evident choice for businesses that aspire to grow.
By employing the large printing area of 2.5 m × 3.1 m, two printing origin points can be set. The toggle print feature allows loading/unloading the print material of one side while printing on the other side. This feature improves the printing efficiency.
The ionizer is installed at the backside of Y-bar. This minimizes the negative printing effects associated with the electrostatic nature of various media.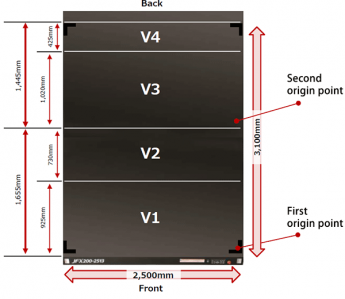 The printing material can be fixed onto the table using vacuum. Four suction areas are separately controlled by using valve switches. The vacuum power can be adjusted by controlling vacuum at any unused area. The associated printing material stability enhances printing accuracy.

This pedal allows operators to switch the vacuum power without the need to access the control panel at the front side.
Unwanted visible banding (*2) on the swath boundaries is reduced by overprinting between swaths with a reduced number of ink droplets.
* 2: Visible lines generated on the swath boundaries.
Each ink color has its own specific gravity and viscosity. To achieve a precise placement of ink droplets onto the media, Mimaki has designed an optimum waveform control technique that allows the printhead to jet each ink color at an optimum angle, maintaining excellent ink droplet circularity. Thanks to precise ink droplet landing, three different droplet sizes are properly used for providing optimum print results.
Mimaki clear control (MCC) has been newly added to the JFX200-2531 model. This technique adds a glossy finish on desired areas and a premium appearance to the print. However, clear-ink prints tend to be ruined by dusts adhering to uncured inks. In order to minimize dust adhesion and air bubbles on the print, MCC shortens the ink curing time by processing the clear ink print and UV-light irradiation simultaneously. MCC provides a gorgeous gloss finish and a stylish matte finish. Moreover, an embossed print is available by multiple applications of clear ink on specific areas; it adds a dimensional appearance to the print and enables representing the freshness of food or elaborate designs.
JFX200-2531
Printhead
On-demand piezo printhead(Staggered printhead arrangement)
Maximum printable area
(W × D)
2,500 mm × 3,100 mm (98.4 in × 122 in)
Ink
Type
LH-100, LUS-120, LUS-150, LUS-200, LUS-350
Color
C, M, Y, K, Lc, Lm, W, Cl, Pr
Packaging
1L bottle
Media
Size (W × D)
2,500 mm × 3,100 mm (98.4 in × 122 in)
Thickness
50 mm (2 in) or less
Weight
50 kg (110.2 lb)/m

2

or less
Interface
USB2.0
Certifications
VCCI CLASS A / FCC CLASS A / ETL UL60950-1 /CB /
CE Marking (EMC, Low voltage, machinery directive and RoHS)
Poser supply
Single-phase AC200-240V 12A or less, 8A or less (Two inlets)
Power consumption
2.88 kVA,1.92 kVA (Total: 4.8 kVA)
Operational environment
Temperature: 15 - 30 degC (59 - 86 degF)
Humidity: 35 - 65%Rh (No condensation)
Dimensions (W × D × H)
4,400 mm × 4,290 mm × 1,250 mm
(173.2 in × 168.9 in × 49.2 in)
Weight
Approx. 1,000 kg (2,205 lb)
Note: For product improvement purpose, data in above specifications are subject to change without notice.